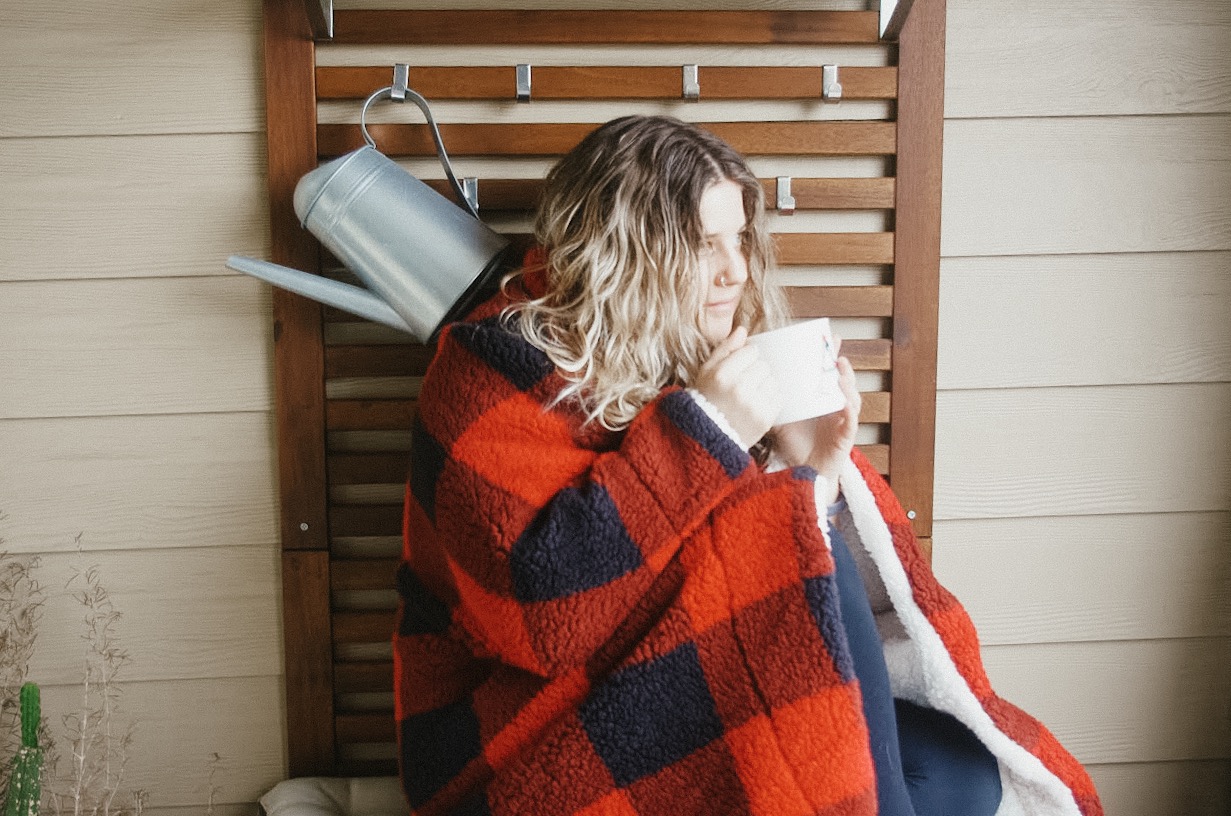 Oh how I loathe the feeling of waking up as though you've been hit by a train. That's exactly how I felt yesterday morning and no it wasn't the booze. Unfortunately, I had caught a bug. So I did what any sick person would do. I called into work and crawled my way to the couch to binge watch Netflix and chill. Since I was completely glued to the couch, I ordered groceries to my house in true millennial fashion. I decided that if I was going to be a complete blob I might as well try and kick this bug by making myself some yummy chicken soup. Since my mom wasn't here to make me her delicious chicken soup that I was seriously craving, I decided to whip up my own version but, this time, with a little twist.
This soup is jam packed with healthy foods that are great for fighting any sickness. It's loaded with veggies and chicken, kicked up with some spices, and all swimming in some bone broth. This soup contains all you need to really rev up that immune system. Electrolytes to hydrate you, and antioxidants to fight off the sick. Soup is also the greatest comfort food when you feeling less than great.
I started by chopping up half an onion, mincing some garlic and throwing that in a pot with a tablespoon of avocado oil. I let that simmer in the pan for a couple minutes until it was fragrant. Then I chopped up a few carrots, a bell pepper, a jalapeño (omit for less spice,) some mushrooms and threw all that in the pot as well. I let this cook for about 5 min. I then added a teaspoon of turmeric (turmeric is a great anti-inflammatory and antioxidant) as well as a teaspoon of rosemary and thyme. After, I added 4 cups of bone broth. I got mine in a box from the store but it's super simple to make at home, as well as more cost efficient. The next thing I added was a can of coconut milk. This adds that creamy taste that I wanted so it would really soothe my throat. I then added all the shredded chicken as well as a couple bones to simmer in there (don't forget to take these our when it's time to eat.) I brought all of that to a boil and then simmered it on low for about 45 min. You can simmer this for as long as you'd like (the longer the better really) but I was just too hungry to let it go for much longer. I then added the kale and let that wilt in the soup for about 5 min and then finally it was time to dig in.
Hope you guys enjoy this recipe! Let me know what you think 🙂
Chicken Immunity Soup
When you're feeling lees than great this is a delicious soup to whip up. You can add any veggies you have on hand that go well in a soup. It's a flexible dish that is super simple to make. Gluten-free; Dairy-free; Paleo
Ingredients
1

lbs

Shredded chicken

I use leftover from a rotisserie chicken

1

tbs

Avocado Oil

1/2

Onion (yellow or white)

Diced

3

Cloves

Garlic

Minced

1

Jalapeño

Diced

1

Bell Pepper

Diced

8

Ounces

Mushrooms

Sliced

4

Medium

Carrots

Sliced

2

Cups

Kale

Chopped

4

Cups

Bone Broth

1

Can

Coconut Milk

1

tsp

Turmeric

1

tsp

Rosemary

1

tsp

Thyme

Salt and Pepper to taste

1

tsp

Hemp Seeds

Garnish on top
Instructions
Add the avocado oil to a stock pot and heat over medium. Then a

dd the onion and minced garlic until fragrant (a couple min)

Add the rest of the chopped up veggies (except kale) and let that cook for about 5 min

Add in the turmeric, rosemary and thyme to the veggies as well as some salt and pepper and toss. Then p

our in the broth and coconut milk.

Let the soup come to a boil, add the shredded chicken and then turn to low to let it simmer for 40 min

Once the soup has simmered then add the kale to let it wilt for 5 min.

Salt and pepper to taste and then SERVE! (you can add some hemp seeds on top for an extra somthin')