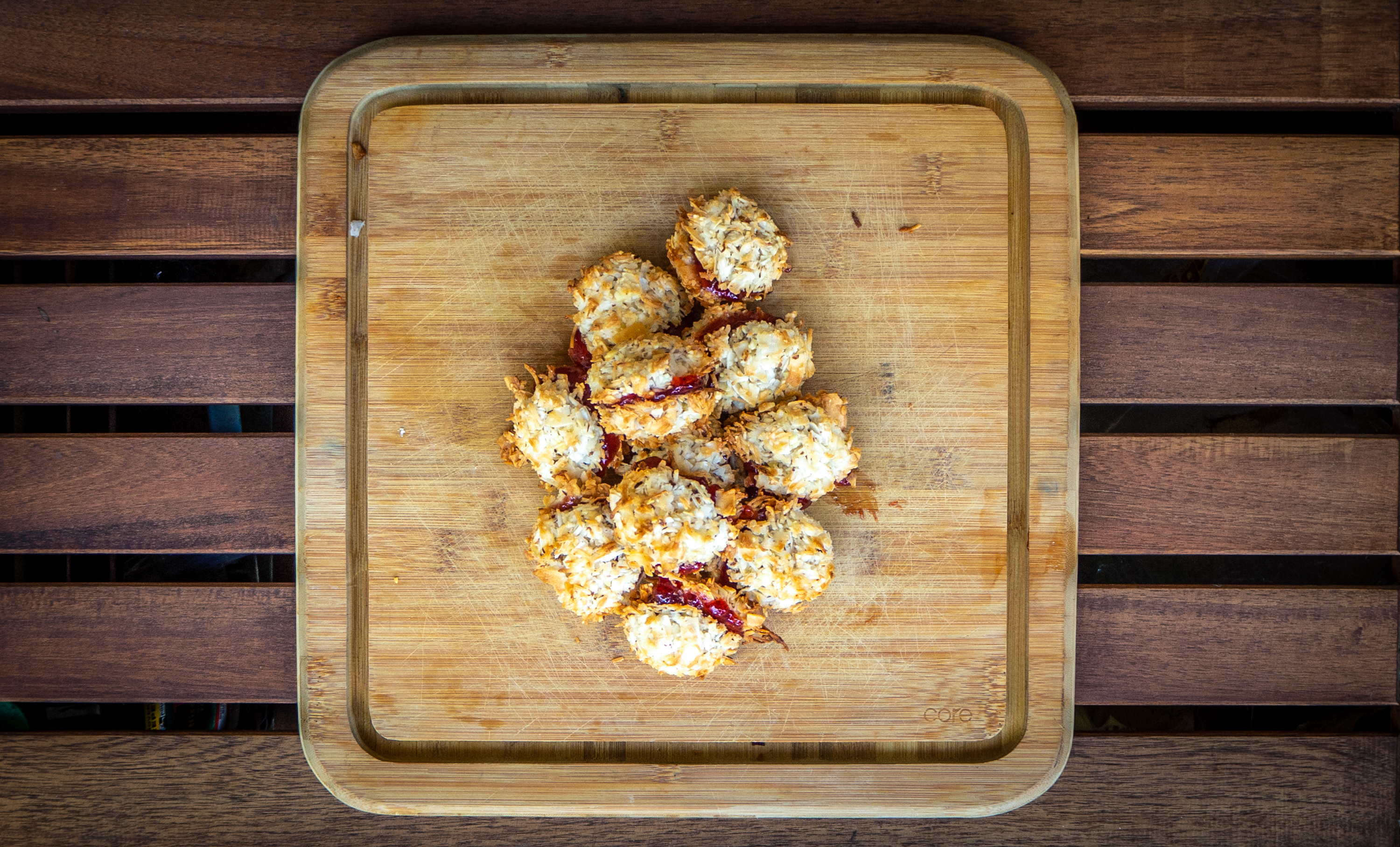 I've been taking full advantage of quarantine over here at the Waterloo house and have been cooking/baking up a storm. Now that Facebook isn't feeding me three meals a day, I've been forced to take out the spatula again. I almost forgot how satisfying it is to eat something you've put love into. Although I love making a delicious dinner, I think I've missed baking the most. Alongside making snickerdoodles, and chocolate chip cookies, I wanted something a little lighter so I whipped up a batch of these coconut macaroon sandwich cookies.  I've already made these cookies twice, and I gotta say they are as delicious as they are look. They're super simple to make and there isn't a ton of added sugar. The sweetness of the coconut and the jam really come through so you don't need to add much. They're gluten free and dairy free (if thats your thing) and IMO they're pretty guilt free too. Simple, easy and tasty. Hope yall enjoy!
Macaroon Sandwich Cookies
Ingredients
3

Large

Egg whites

1/3

Cup

Sugar

1/4

tsp

Salt

8

Oz

Coconut Flakes

about 2 1/2 cups

2 1/2

Oz

Finely chopped almonds

about 1/2 cup

1/2

Cup

Strawberry Jam

any jam will do
Instructions
Preheat over to 350 degrees. Line 2 large baking sheets with parchment paper.

Whisk together egg whites, sugar and salt in a large bowl until frothy. Stir in coconut and almonds.

Drop coconut mixture in 1 tablespoon mounds 2 inches apart on baking sheet. Flatten each to 1/2-inch thickness.

Bake both baking sheets at the same time in the preheated over until golden brown about 12 minuets, rotating baking sheets (top rack to bottom rack and front to back) halfway through baking. Let cool completely on the baking sheets, about 45 min.

Turn cookies over (flat side up) and spread about 1 teaspoon on each cookies and sandwich with a seconded cookie. Chill until set. About 15 min. Store covered, at room temp for 3 days.
Photos by: Amanda Hickman
Edited by: Mountain Trout Photography